Poignant
I took a gamble when I let the word "poignant" fall out of my face in front of my cousin Apurv. He was raised in India, but he had also lived in Colorado for most of a decade. Would he ever have come across this ten-dollar word?
He didn't know what it meant, so he asked me. Turns out I wasn't quite sure either:
It's like, the triangle that surrounds "beautiful," "touching," and "lightly melancholy."
Apurv is too polite to tell me when I'm full of it. I know my definition is lacking, so I put my fancy word back into its velvet-lined case—until the next day when it appeared in my texts:

I do regret that exclamation point
I know: a little too excited. My friend and I debated poignancy for a beat, when she hit me with this:
To me the distinction is about the intensity and quality of the emotion. How it hits me. Right in the esophagus.
Esophageal feels right. So what does the book say?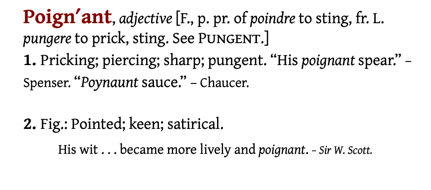 Pungent. Yeah. Poignant does have a smell. Not bad, like rotting garbage, but sharp and unmistakable, like the phosphorescent revelation that follows a blown-out candle. Poignant might sound soft, like a velvet-lined case for words, but it's sharp. Like a diamond.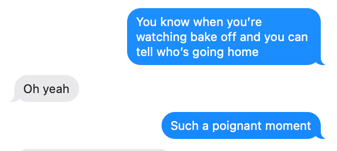 Do I know what poignant means
---
While Apurv is in town, I take him to his first karaoke. We plunk down at Alibi bar and let the intersection of Portland's most talented/inebriated singers drown us in today's hits and yesterday's classics. We are there for hours. So long in fact, that the dress code changes.
Or so it seems. It's now midnight and the bar is packed with suits and shoulder slung jackets, rumpled corsages, lip-sticked smiles, and the unmistakable energy of the Just Married. Behind me, a blonde in an up-do, enveloped in satin, beelines for the KJ booth.
The Karaoke Jockey slides missus to the front of the queue and she takes the stage.
The opening piano glissando and dry rhythm guitar are unmistakable. But when I take in the lyrics, stealing their meaning in midair, it's like I'm hearing them for the first time.
When I had you to myself
I didn't want you around
Those pretty faces always made you
Stand out in a crowd
But someone picked you from the bunch
One glance was all it took
Now it's much too late for me
To take a second look


Oh, baby, give me one more chance
(Won't you please let me)
Oh, darlin', I was blind to let you go
(Let you go baby)
But now since I see you in his arms
I want you back

You wonder if she picked the song on the limo ride over, or in the days earlier, or some moment years ago. You realize of the many songs she might sing in the direction of her now husband, this is the first. You hear the words she's collected to bouquet her beaming husband in serenade in a crowd. The bald sentiment of it is just so earnest. She pulls him in for a kiss and the whole thing jabs you right in the esophagus.