vsrixyz
Papier mache tray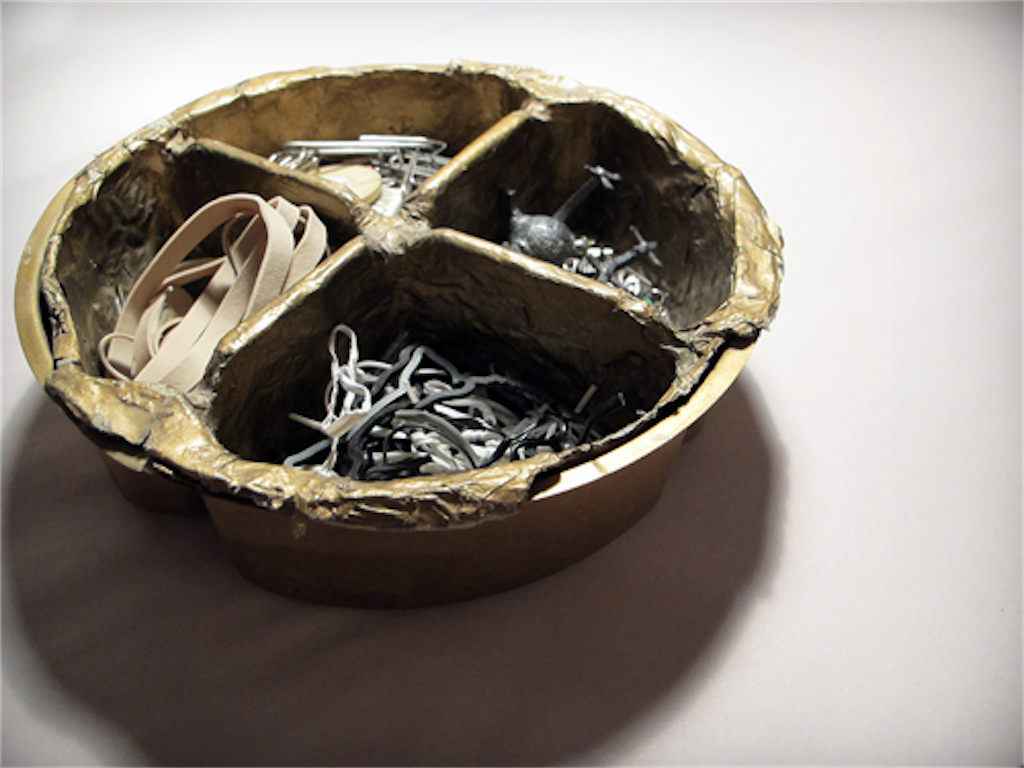 A long time ago, in a galaxy far, far away (middle school) I entered the wet pulpy underworld of papier-mâché. I was inspired after Neil Buchanan constructed papier-mâché jeans on Art Attack. I found one useful guide in which the author literally made anything she could from newspaper and paste. And more than just art: there were instructions on how to make plates and cups and even a pair of salad tongs. Salad tongs!
I took up the craft and this was one result. I used a "mixed party snacks" tray and carefully layered it with strips of wet newspaper and school glue. Instead of throwing out the mold however, I let the final piece sit inside it, because I thought it looked 'neat'. I also had some spray paint kicking around (I can't remember why), so I painted the entire thing gold. 
In spite of its age and layers of filth, I still use this tray. It's function (to hold paper clips, elastic bands, twist ties, and safety pins) handily outweighs my issues with its form. It also easily collects other sundries; you might notice an Omnidroid and Casino chip in there too. I can't imagine my life without this tray, so it's unlikely I will ever rid myself of it. Though if I ever use it to serve you party snacks, feel free to politely decline.