Big Ears 2023
Thursday, March 30 to Sunday, April 2, 2023.
Shows
Day 1
Day 2
Day 3
Day 4
FOMO
Dispatches
Orientation. The box office isn't open Thursday morning, so we walk around downtown Knoxville. Gabe and Ryan (and the rest of the city) are still sleeping. The cold air and sunlight is a refreshing wand of radiation to zap the Portland sog in my pores.
Finding Dory. At Preservation Pub, we take our seats under a plastic ginkgo tree and hear a voice from under the branches. A woman on a ladder is putting the finishing touches on the tree and attending to some byzantine priorities involving giant plastic flamingos. She apologizes for her presence, then asks us a lot of questions and doesn't listen to the answers. We tell her that we hail from Portland; she says she lived there too. She can't remember one thing about it, and I don't think she's lying.
Mivos Quartet. The string-echoed voices of tragedy in Steve Reich's WTC 911 put me into a reverie, the see-saw strings of Different Trains bring me out of it. What a knockout performance.
Liturgy. A metal show at The Standard. Haela Hunt-Hendrix shreds in a mini-dress, Birkenstocks, and a fat silver cross smack dab in the middle of her chest. Her screams are like soft gasps under the rocket train thunder of "eschatological" metal. It's fucking bananas.
Tank and the Bangas. A burst of flavor like fresh grapefruit juice. I'm expecting a full band, but it's a duo: the lead singer (the eponymous Tank) and a keyboardist. They thank everyone for getting up early for "a poetry set." Another surprise. But it's not quite poetry. It's a stripped down version of their songs, both musical and lyrical. A great start to the day.
Cruze Farm Creamery. Vaguely unsettling. The color scheme is blood red and bright white, a palette that extends to their staff uniforms. Clad in gingham dresses with bows in their hair, young maidens serve tall stacks of dairy in a overwrought capitalist metaphor for fertility and perhaps white supremacy? I get a soft serve swirl of chocolate and peanut butter as my own tacit way of saying fight the power.
Charles Crutch Park. What better place to discuss the politics of fast food. Chic-Fil-A is an evangelist conservative, everyone knows that, but what are the politics of Burger King, McDonald's, KFC? Waffle House is an anarchist. Jack in the Box is cringey and unnecessary like Ted Cruz. Is Arby's the Donald Trump of restaurants? "We've got the meats." Taco Bell is a trans activist, Shake Shack is Elizabeth Warren. We stop the conversation when we realize we could do this all day.
Shane Parish. Hauntingly optimistic? Is that possible? A humble guitar set at the Jig & Reel that caught me off guard. Prog-rock virtuosity in a folk-candy shell. "You have to speak to the good part of the human," he reminds us, through sounds about childhood trauma, and break ups, and death. "Walk back words" is a song I will be thinking about for a while.
Tank and the Bangas. It's not often at a music festival you get to see the same band, twice in a day, in two different modes. That's the magic of Big Ears. It's the full band (keys, bass, synth, sax, drums) interpreting the smoky adult concept of funk into something hopeful and gleeful. Tank sings slam-poetry lyrics in a child-like style with references to The Simpsons and anime. Takeaway: "Everything is better outside."
Peter Babadook. The artist descriptions in the Big Ears app are wild. They are Pitchforkian in their prolixity, Kevorkian in their tendency to make me want to die. Curious about their author, Grant does the unthinkable: he sends a question to the automated texts we've been getting all festival and a human response comes quick and fast. There is a ghost in the machine. We are thoroughly spooked.
Maeve Gilchrist and friends. The Point is a new venue to Big Ears. A church that's the spitting image of a bank (topic for another essay), and a stellar venue for harp and string quartet. Gilchrist plays The Harpweaver and Brenda's Abbey, and my mind disappears into an ocean of plucking and waterfall harmonies.
Big Kitty. A human howdy-doody strips from folksy flannel duds to reveal a frowsy polka dot dress. A protest against Tennessee's anti-drag laws? For the rest of the weekend, you start to notice men in dresses. He starts with a kaleidoscope of psychedelic poetry and wins over the crowd with a song about a boy who "smelled real good."
Ichiko Aoba at the St James Cathedral. Japanese folk accompanied by a string quintet. Cozy dreamy gauzy tunes that reminds me of a movie score. I can't imagine this set sounding better anywhere else than this hallowed hall.
Lucius. Sparkly disco synth-pop reminiscent of Fleetwood Mac and Abba. There are keytars and sequins. Funky rhythms and warm harmonies. I thought it couldn't get any better and then the co-lead singers descended the stage and sang a duet in the middle of the crowd. Behind us a man wore a t-shirt emblazoned with "Shaniacidal Twaindencies."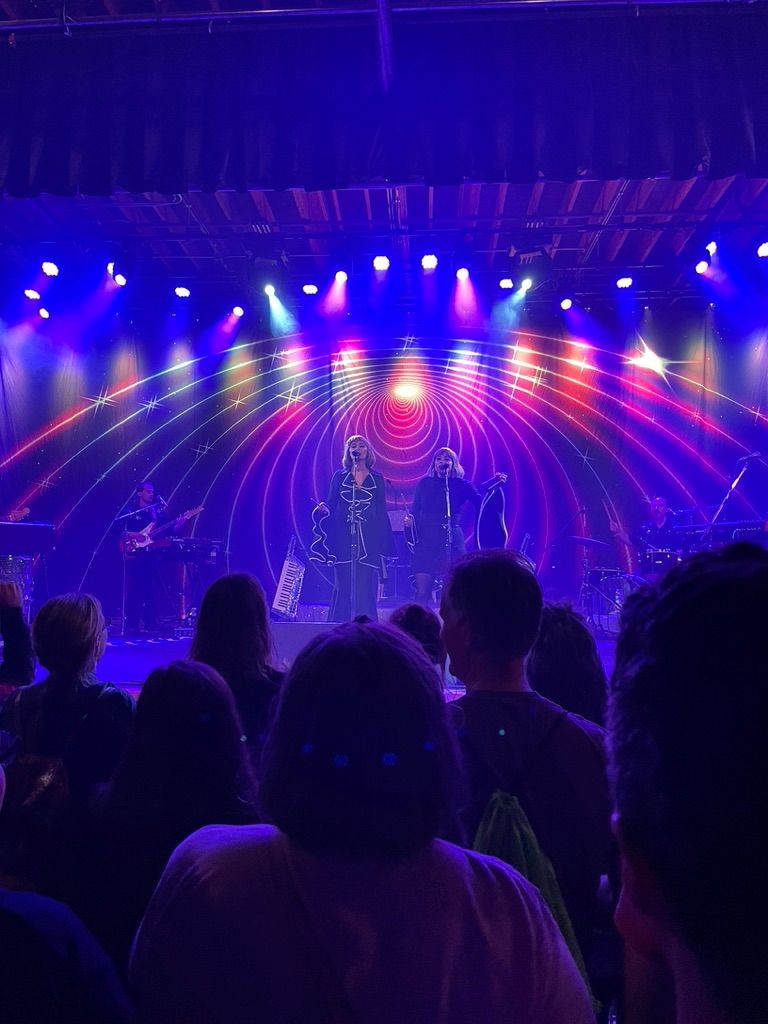 Fujita. Playing the instrument of his own creation in the blackbox of OCPAC. He pumps a bellows continuously with his left hand while manipulating flute-like pipes with his right. The organ is also a sampler and loop machine, and he layers noise over noise until my mind is completely wiped out.
---
A brief discussion on Bad art vs badly done art
I was in a band once